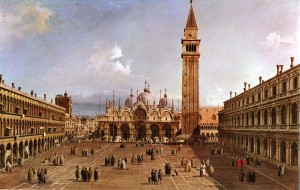 Here is our selection of exhibitions in Paris for December :
– Maillol Museum : Canaletto in Venezia (see our article)  www.museemaillol.com A pleasant exhibition about this famous vedute maker and a step on our "Montparnasse – Rue du Bac Artistic Itinerary" to download 
– Jacquemart-André Museum : Canaletto and Guardi www.canaletto-guardi.com/en
An exhibition about Canaletto and his follower Guardi, famous for his caprici (whims), sort of imaginated landscapes. Also an opportunity to discover Jacquemart-André Museum and its exiting area downloading our "Monceau-Ternes Artistic Itinerary "
– Orsay Museum : Impressionism and Fashion www.musee-orsay.fr
An elegant testimony of Impressionism period
– Luxembourg Museum : The modern art club, avant-garde collectors in Le Havre www.museeduluxembourg.fr
An interesting collection of french  modern art and an opportunity to stroll in the beautiful Luxembourg garden enjoying its autumn colors 

– Grand Palais : Bohemias www.rmn.fr 
How Bohemia and Bohemians were treated in painting
– Musée de Montmartre : Autour du Chat Noir www.museedemontmartre.fr
An exhibition on the famous Cabaret "Le Chat Noir" (the black cat) and the artistic life in Montmartre at the end of the XIX th century. Also a charming place in the eart of Montmartre vineyards. A step on our next Itinerary to be published in October !
– Romantic Life Museum : Romantic Interiors (see our article)
A collection of XIXth century watercolors on european interiors. Also an opportunity to stroll in the nice area of "La nouvelle Athènes" nearby. Our next Artistic Itinerary to be published in October !
Enjoy your visits and extend it downloading
The Unsuasual Artistic Itineraries from Parisforart !