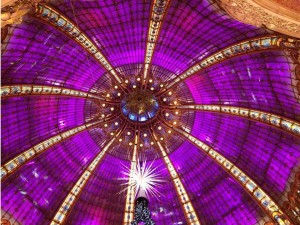 The Dome of Galeries Lafayette celebrates its 100 th anniversary and offers the opportunity of a highly original exhibition at La Galerie des Galeries (the art galery at the 1st floor of the store). Following the creative path, we discover how this amazing dome made of glass and steel, in a perfect Art Nouveau style, created in 1912 by the architect Ferdinand Chanut and the master glassmaker Jacques Gruber, following a neobyzantine inspiration, helped the popularity of the building.
At the same time, was created by Louis Majorelle, another great master of l'Ecole de Nancy, the majestic staircase decorated with floral subjects (which no longer exists) and the ironwork balconies that give the building its so famous theatrical setting.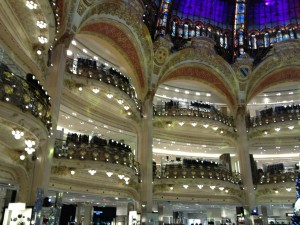 Galeries Lafayette each year attract 30 million visitors. In 2011, it has been recorded 38 million visitors in Paris … this is by far one of the most visited places in Paris !
Beyond shopping, this is a must see for any discoverer of the capital and the French elegance.
Galeries Lafayette wish to cultivate this image avant garde initiated by  the Dome and its revolutionary architecture of glass and steel at the beginning of the twentieth century. La Galerie des Galeries contributes largely presenting creations in the field of visual arts, fashion and design, focusing on highly original scenographies.
An exhibition to discover until 26 january.
www.galeriedesgaleries.com